12

January
Rooms
DIY Door Décor Ideas for Kids Room
In our previous post we told you about some Unique DIYs for your Kids Room Décor (http://www.makemycasa.com/blog), expanding the same, today we are going to talk about DIY Door Design and Décor Ideas for your Child's room. Even if you think that, you have not got hands of a Crafter, you should not worry. As these DIY's can be made by all Mamma Bears and Papa Bears.
So, Parents are you ready to give your munchkin a little surprise soon as he returns back from School?
Let's begin the Class.

Source: Pinterest
Room's Initials
Pick up the first letter of your Child's name and make him a Letter Cut-Out, Door Hanger. As you can see in the image above all you need is a Cardboard Cut-Out Letter Sign, some Yarn Balls, Adhesive and Artificial Flowers.
Extra Tips
You can either cut the Letters on your own or else you can shop them online. Remember, while decorating it don't forget to make a hole on its back-side for hanging the same.
Extra Ideas

Source: Pinterest
For your little princess instead of the tiny cars like the one above, you can stick figurines of Barbies, Ponies, Mermaids, Unicorns, Fairies and whatever she likes.
Nickname their Room
It would not be wrong to say that Nicknames are something which contains more love and affection. Here, instead of picking up a letter you can cut-out your child's nickname and design it this way:

Source: Urbanic Paper
Extra Tips
As you know Cardboard can be tricky to cut, so for cutting out these three- dimensional (3-D) letters you can use Paper Chipboard in order to create that 3-D like effect and then you can stick the same on the Cardboard cut-out. After this stick a Sponge for Bouquets inside it and stuff Plastic Flowers on it.
Extra Ideas
On such 3-D cut-outs, you can also use Glitter Foam Sheets, to stick on the Cardboard and Chipboard.
Door-Shui
Get inspired from China's , Feng Shui's and make your child's very own Door- Shui. In order to make this you will need some Glitter Foam Sheets for the Letters, some Ribbons or Rope for hanging and attaching the letters together.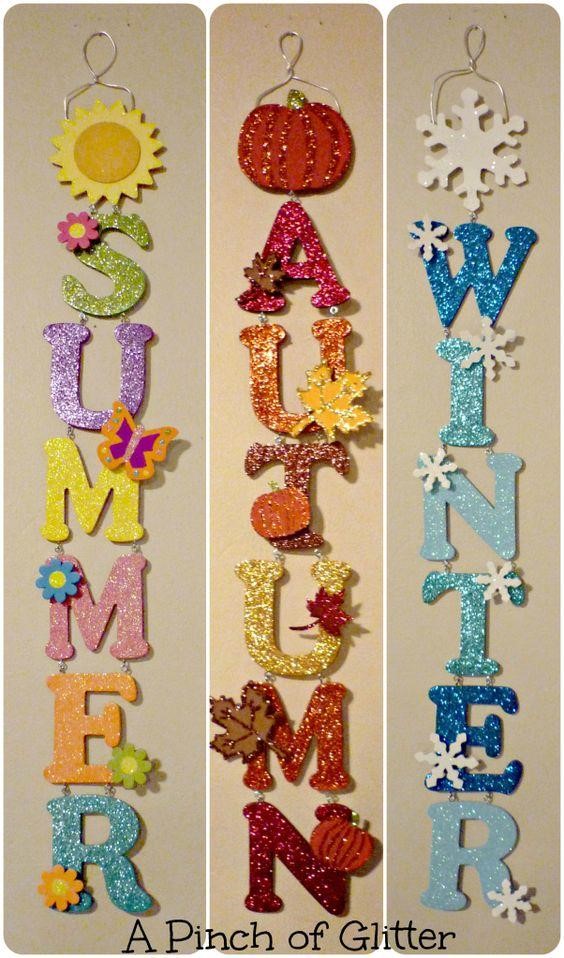 Source: Pininterest
Extra Tips
You must be seeing the Add-ons, i.e. Snowflakes Sticker on Winter, Flowers Stickers on Summer etc. For this prefer using a Craft Paper or Cardstock. So that, both the Foam and the Craft Paper/ Cardstock complement each other. Unlike the one shown in Autumn Foam Hanger.
Extra Ideas
Here, of course, you can cut out your Child's full name as such hangings look good when they are elongated. Likewise, you can stick photos instead of Add-on Stickers.
If you feel that the Foam Hanger could fall off, due to frequent opening and closing of the door, then to make it less vulnerable and more durable you can stick the letters to the door with Foam Tape.
Door Exhibition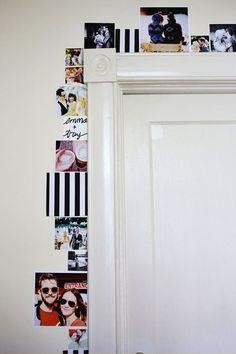 Source: Pininterest
You can even create Door Frames for your Kid's room by sticking out all of his best photographs from his infancy till date. This would not only adorn the area around the door but also, it will serve as good pastime medium for your guests and his friends.
Extra Tips
To protect the photos from sunlight and dust, you can apply two –three layers of Mod Podge on them, to increase their life. If our Kids can makes us a Birthday Card with their tiny little hands. We think it won't be a bad idea to Decorate their Room's Door with Design Ideas for Décor like the ones above. For your kid's safety Door Stops are quite essential especially if he's a toddler, this Door Stop is the cutest and easiest one to make, this is what the readers have said so and we think the same.