12

January
Rooms
NEW KITCHEN TRENDS SOME INNOVATIVE IDEAS:
INTRODUCTION
Kitchen –we dreamed of yummy foods and amazing smells of spices when we heard this word. Days are gone when residential kitchen used to be the unhealthiest and unequipped place where smoke and oily smell was a natural thing to experience. But over more than 15 years a dramatic change has taken place in home decoration as well as in kitchen decoration. The modern kitchen is now equipped with modern accessories to make cooking more enjoyable. Just like new fashion trends in clothes and home interior design style, kitchen interior style is also exploring new ideas to make every small corner of the kitchen utilised in a way that it enhance the uniqueness of the kitchen.
A modern kitchen is a place that reflects the taste and lifestyle of the individual. Smart in appearance, equipped with modern gadgets, walls covered with trendy tiles and bright colours—modern kitchen will make you feel energetic to make and try new dishes without sweating. Here we are trying to explore some contemporary and innovative ideas about how we can make our kitchen even more modern and how we can renovate our old kitchen into a new one.
SPLASHBACK PANEL
Cover the wall behind sink and workplace, cooker, etc. with glass and colourful stones that match your home design.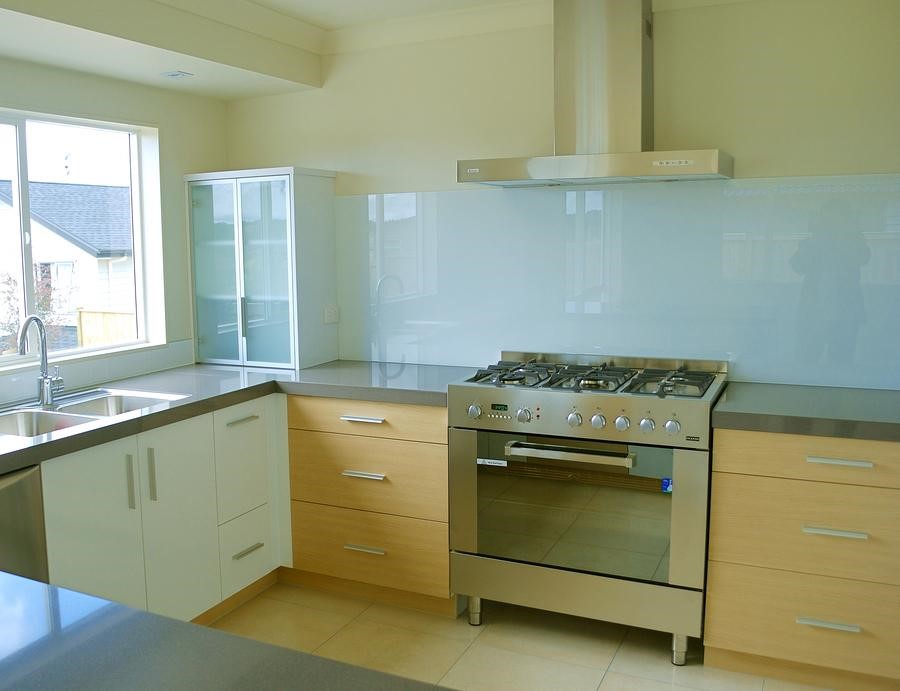 http://www.amglassandmirror.co.uk
TUXEDO KITCHEN CABINET
The new trend of two-toned painted cabinet has set in. Same coloured kitchen cabinet becomes obsolete now. This types of cabinet gives the kitchen a new trendy look. The kitchen designers are also suggesting to cover the upper and bottom doors of the kitchen cabinet with two complimentary colours, like blue and grey, black and white.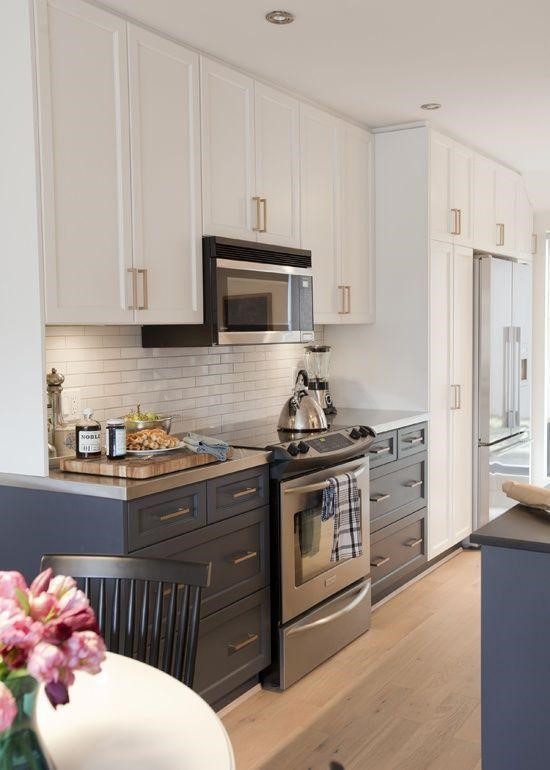 https://www.pinterest.com
HIDDEN PLACE FOR KITCHEN APPLIANCES
Some steel-made kitchen appliances are necessary, but they looked very cold and industrial. New trends of kitchen designing style suggesting to cover up all the necessary appliances—such as make a hidden drawer for micro-oven, covered area for refrigerator, so the kitchen gets a aesthetic look.
http://www.locationdesign.net/
ADD COLOURED SINK
Sink is an important feature of every kitchen. So far traditional grey and steel colour kitchen sink was in use, but the latest trend is to add some colour to your kitchen sink also so that washing utensil is no more tedious work now and also to mix match with the other decoration of your kitchen. Soft green or soft yellow coloured kitchen sink are the latest trends now.
TOUCH ACTIVATED FAUCET
Installing a new touch-activated faucet in your kitchen is the most recent fad category trend that is bursting out in the market in the interior decoration of modern kitchen. Its look trendy and slick in design, as well as it saves time to call some other in the house to on the tap when you are in dirty and oily hand. It's also a water saving idea.
http://kienthuc.net.vn/
STORAGE UNDER SINK and KITCHEN COUNTER
The space under the sink and kitchen counter looks darkish and gloomy, and it makes the whole kitchen interior looks dull. So using this space as storage is not only gives you some extra hidden place, but also provides your kitchen with a brighter look than ever before. Install roll-out trays and place all the cleaning items you need in your kitchen, just at your hand distance.
http://www.architectureartdesigns.com
INCORPORATING LED LIGHTS
Give your kitchen an amazing romantic look with the new range of LED lights. Led lights are the greatest hit in kitchen decoration for the following reasons:
1. You can particularly focus on the space you want.
2.LEDs are soft light so you can keep them on without heating your kitchen walls or kitchen cabinets.
3.Electric consumption is lower. Thus you save money investing in them.
4.Available in different colours, red, white, green. So you can create the dreamy look in your kitchen.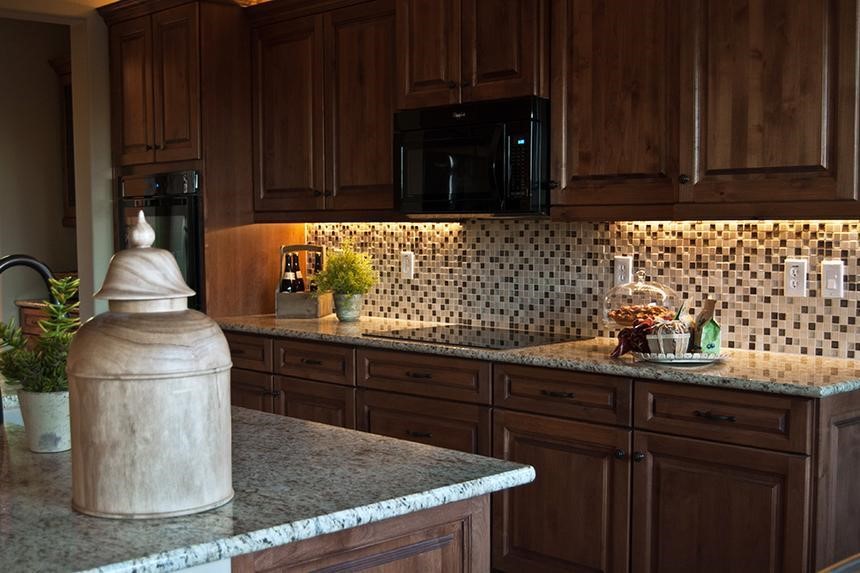 https://www.houselogic.com
GRANITE OR QUARTZ COUNTER TOP
Go for either Granite or Quartz Countertop as it is easy to maintain. Both are available in different sparkling colours, hardly catch any stain. So you can give your kitchen perfect trendy looks.
http://www.lonytt.org
TRENDY KITCHEN HOOD
Kitchen hood is an essential and primary need of every kitchen in modern lifestyle. Install a kitchen hood that is not heavy to cover maximum space over your oven, rather chose a sleek and trendy designed kitchen hood to make your kitchen more elegant.
Organise your kitchen with easy to use Home Appliances
Organise your kitchen with modern easy to use home appliances. Such instruments will serve you a great purpose in your busy life. Some of the modern kitchen appliances are—-
a)A built- in oven.
b)Toaster mounted on wall.
c)Dishwasher placed under the kitchen counter with the same finishing cabinet colour.
d)Coffee- maker.
e)Built-in induction cook top.
So last but not the least:
PERSONALISE YOUR KITCHEN
It's not wise to follow the market trends always. As your kitchen reflects your personality, so it's necessary to match your kitchen style with your home decoration. Try to make a bonding between your dining room and kitchen, so you won't find any problem to serve your guest.